"website updated" 09-12-2023
VISITS since 1 july 2021
LONDON TAXI WEDDING SERVICES.
Welcome to Melbourne's first , and now the only London Ride,
for every occasion, anywhere in Victoria, with a 3 cab fleet.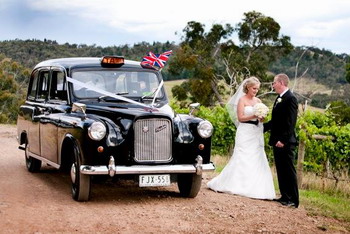 Australia Melbourne Victoria
service area = everywhere in Victoria
Melbourne's 1st and the most loved supplier of 3 London black cabs as classic wedding cars,
1 cab with A/C*
WHEN ONLY A LONDON TAXI WILL DO - LOGO FREE
Chauffeur Driven Cars/Limousine Services
SINCE 1994, 29 YEARS OF EXPERIENCE, SERVICE & FUN ... 1,639 events
***** 5 stars as voted by customers on the easyweddings.com.au
A framed award sent to us Oct 2015
Australian Bridal Industry Academy - Awards Finalist #1 for London Cabs,
2010, 11, 12, 13, 14, 15, 16..
"We have voted for you! Very well deserved - you did a great job Thanks for everything"
---
office and viewings at MEWS, at
4 Windsor Avenue Wyndham Vale Werribee 3024
Melbourne Victoria Australia


Email with booking details at solsen@londontaxiweddings.com.au ...

to avoid my reply being junked- please add this email to your address book



Melway Map 205 B5

Hear ye, hear ye, Prince Charming has found his Cinderella, and they are to be wed.

Yes Hello and congratulations to the newly engaged couples. So now you are planning your wedding and only a London taxi will do. With places like London, Liverpool, Manchester, Brighton, Edinburgh, having a truly nostalgic appeal ...... Memories of the U.K. will come flooding back on your wedding day, as you travel by London Black cab, sipping bubbly OR SPRING WATER, kissing, royal waving, With your cab trimmed with a British, Scottish, Welsh, or Irish flags...... yes Re-enact the royal tour of 1954, with 'Royal Waves from Prince and Princess Charming, whilst your taxi is HERALDING your celebration ( tooting the Horn, tune "Here comes the Bride" and more ) in Grand European style, your departures, parade and arrivals. Enjoy the towns folk waving in return, as they wish you both a life-time of love.
Is your wedding inside the Royal Botanic Gardens Melbourne enjoy 1 or 2 taxicabs driving you into the gardens on your wedding day
---
... SERVICES ... CALL NOW FOR YOUR U.K. STYLED ...
WEDDING ... full day -part day, church or garden or Registry office... metro and country weddings .. anywhere .. ,

RECEPTION DEPARTURES .... to your hotel .... ..your wedding exit is the grandest farewell your friends will ever give you. Surprise your Bride with a London taxi ...to your secret destination - with gift champagne, glasses, white linen napkins. ......even Fireworks can be arranged, what a show ,

WEDDING ANNIVERSARY .... going to your restaurant of choice say ...the Titanic Theatre Restaurant for your 1st.. 2nd.... , Silver (25) Ruby(40) Golden(50), Diamond (60), to 70th or more, The Governor sends out Congratulatory letters to people on their Golden Wedding Anniversary, Diamond Wedding Anniversary and 100th Birthdays. To request that a Congratulatory letter be sent to a Victorian resident, please call Protocol Enquiries on (03) 9651 5026.

BIRTHDAYS. ........for mum, dad,.18th BIRTHDAYS, surprise 21st BIRTHDAYS etc... going to the Windsor hotel for the Royal High tea, and then your return trip

BRITISH UK PROMOTIONS ........ with taxis buses spruikers sound systems chimney sweeps British characters Grenadier Guard UK THEME PARTY Expats

DEBUTANTE BALLS .. SCHOOL FORMALS .. GRADUATIONS .. VALENTINES DAY 14th February .. . .. St. PATRICK'S DAY 17 March .. Hens Nights

Film cars, Movie car, action vehicles Theatre Show Promotions

BUCKET LIST ITEM.... have your first ever ride in a London taxi ... have a night out with 3 mates ... with photos and memories for a life time.
CHOOSE A THEME- WITH FLAGS AND TIES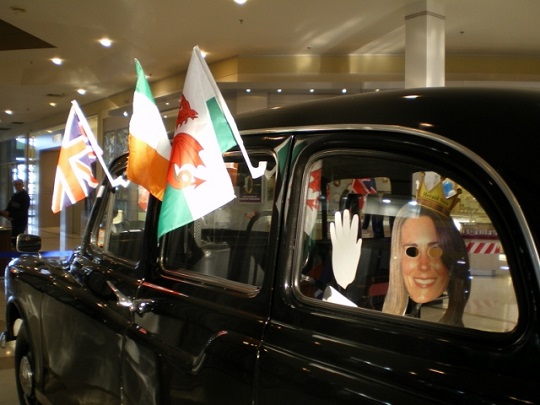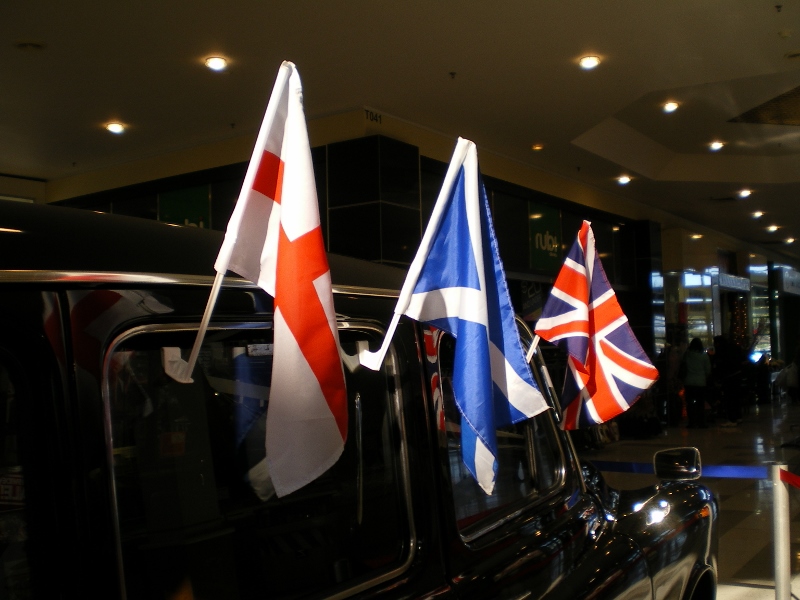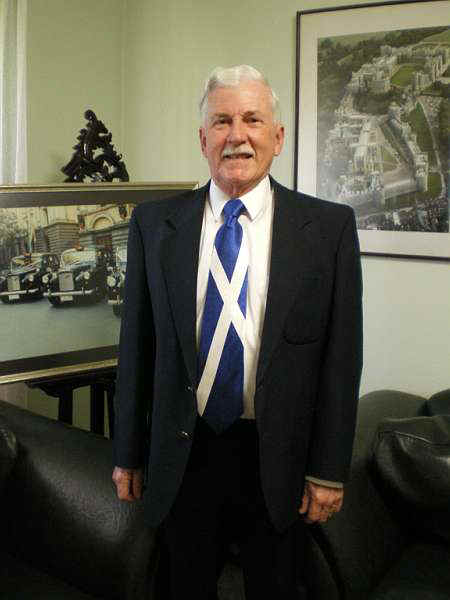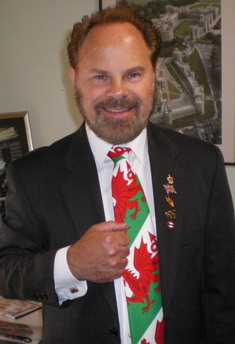 STEVEN the Owner, sporting the Union Flag TIe, or Saltire(Gerry), Welsh, Irish
ABOUT US
NOW CELEBRATING 29 FUN-FILLED WONDERFUL YEARS OF SERVICE AND EXPERIENCE. Established in October 1994 in Spotswood as THE OLD LONDON TOURER, then in May 2000 became "London Taxi Wedding Services".
We are Melbourne's 1st and STILL THE BEST supplier of pommy cabs as classic wedding cars ( AUSTIN FX4 1959 - 1997 )
YES ... Government Licensed all over Victoria
All drivers are mature and are certificated to drive our taxis
Every day is a wedding expo here , with 4 cabs and reception room.
Our 1,000th function completed on 10 Nov 2007 for Caroline Daley and Brett,
total bookings... 1,639 as of 14-10-2023

---
OUR PASSION..
Started when we found our 1st cab, for sale, wow , and we wanted everyone to share in it . Thus we have always wanted to bring you the best London taxi service, with a genuine interest in YOUR wedding day. To support this we included 4 trips (privately funded) to London, to Visit the Public Carriage Office, to speak with the Top brass, tour Ray's Inspection bay, tour 'Cab Charge' head office, Visit with 'Mann and Overton' head office and spares. Tour the places our cabs have passed countless times, like Buckingham Palace, Kensington Palace, Hampton Court Palace, Harrods and more .. even visited Windsor castle, Liverpool, Manchester, Gloucester, Brighton, Edinburgh, York, Gillingham in Dorset, Cardiff in Wales, Southampton, ...... now let's chat about where you both met, and where you popped the question, your romantic London memories, .... and your plans for a royal wedding with our famous London Taxis.
Time line.. LATEST NEWS.. ahh the memories .. what fun we had
14-10-23 NOW celebrating 29 years of fun and service

1-2-23, USB sockets for phone charging installed- now we are space age- lol

14-10-2022 Happy anniversary to ourselves, #28 yeah we made it.
8-9-22, OMG The passing of Her Majesty, Her Royal Highness Queen Elizabth II
11-3-2022, Milestone #1600 booking, With Josh and Kaitlin German, at Montsalvat , and a very happy crowd of witnesses,
14-10-2021, Happy Final 27th Anniversary to our first London taxi, with 1591 wedding completed, Looks like my last year or even last 6 months, having just spent $20,000 on the second cab,, Bollocks. Although I will be doing weddings for all of my new friends,

30-12-2020 A lady, came up to me at the Barwon Heads fairground, and said, "Is your name Steven?" yes it was a past bride, Cathy, from 12-11-2004 WOW, and still happily married (her words) to James Cragg and 3 children.

14-10-2020. 26th anniversary for our 1st London taxi, esp in the worst year ever 10 bookings, BUT 10 HAPPY EVENTS, WHAT MORE COULD I ASK FOR - BUT MORE LOL, thankyou to all my 1575 events, and thus 3,000+ families + their guests, , We Brian(dec) and I , and drivers, have and will continue to do the best that we can do.


23-3-20 corona virus, so i can stay well to service the bookings, my regime is 3 Vitamin C tablets with every meal,, we don't send our army to war with rifles BUT NO BULLETS RIGHT ? well white blood cells need Vitamin C to make bullets to kill virus and bacteria- known since 1935, tell a friend today .. see "vitamin c foundation" in the links below
14-10-2019 happy anniversary # 25 to myself and Brian Hickey(dec) who's idea it was to go look at a London taxi in Williamstown, 1994 October.
3-6-19 sad news My first ever customer in my London taxi, 21-10-1994, Norma Hesline-died today, aged 95
7-3-2019, I got MAIL ,,,,,,,, ROYAL MAIL from Kensington Palace, with photo
18-10-2018, Steven and his 86 yr old mum attended the Prince Harry and Megan royal walk up Government house drive Melbourne, and appeared on the night news "we was" https://www.youtube.com/watch?v=HhKUMlk5DYw
14-10-2018 happy anniversary # 24 to myself and Brian Hickey(dec) who's idea it was to go look at a London taxi in Williamstown, 1994 October.
| | |
| --- | --- |
| 15-5-18 Went to royal wedding of Prince Harry and Megan Markle,19-5-18, took my mum of 86yr old, wow what a day and the leading up week, home 16 days later on 31-5-18 seehttps://www.youtube.com/watch?v=3AHrHNJQDWY&feature=youtu.be ..time 3.53 our parade spot - on the right- under the speaker pole, the waving flags are US | |
7-11-17 emails crash discovered, fixed 7-11-17, email locked up in sydney server, not getting passed to customers, so please try us again, we did not ignore your lovely emails- in doubt always try the phones
6-10-17 .. 23 years and now it's happened, 2 hours after I got taxi back from shop, with $1590 new engine head, WTF, taxi smashed -reversed into by plumber ute, wedding 8-10-17 will have another taxi phew ( 8 weeks to repair)
12-8-17 booking cars will keep the business open, so don't delay, I love my cars and my wedding service , uber drivers love your money
29-6-17 Steven's partner of 27 years, Brian Hickey, died today
23-7-2017 Sunday WEDDING EXPO, AT THE BUCKINGHAM INTERNATIONAL- HIGHETT 10-3 PM,
11-2-2017 Esther Anderson celebrity wedding, we took Howard Moggs the Groom, his taxi organised from LA via direct phone call, and a secret + surprise from Esther for Howard, and yes he was surprised, a wonderful day.
12-11-2016 ........ STOP THE PRESS - hold the front page, Mansfield courier front page, get a copy, re the story - first ever wedding with London taxi in Mansfield-Merrijig , in 22 yrs of business, wedding #1505 was at Sebel Pinnacle Valley Resort, with helicopter if you don't mind, job was 7am-midnight ,17hrs depot -depot .
14-10-2016 ..... WOW, today 14th october 2016, our 22nd anniversary, for London taxi wedding services, and last wedding, last Saturday 8th, was event #1500 , woof we have driven a long ways since we started, I am so so proud of my drivers over the years who did the show biz side of the business as requested, will be in Lancefield tommorrow 3pm, event #1501.
14-10-15,, happy 21st birthday to us, #1476 wedding and events

13-10-15...... Our 4 London taxis gave away free rides around Melbourne CBD for Emirates airline UK Promotion. it was a lot of fun.

9-7-15,..... today Mr Tom Parker-Bowles will be a Guest in our Famous London taxi

2-5-15..... HRH Duchess of Cambridge Kate, safely delivered of a Baby Girl , evening our time , 8.36 am London time, congratulations, hip hip hooray,

31-1-2015...... wedding in Canterbury, after leaving photos in the park, in 3 London cabs drove down Maling Road, Canterbury, with 3 Horns heralding the passing parade to the shoppers.. Steven- owner in leading taxi saw lady, who was between 2 parked cars, jumping up and down"toyota advert style" screaming "MY CAR, My CAR". She was a recent customer, more than happy to see her London taxi again. also seen by Bride inside... 2nd cab.

3-12-2014... A/C at last in our top London cab - FJX558, maybe more to come.

14-10-2014.. Happy 20th Anniversary to US with 1427 weddings.
12- April 2014, public compliment found after wedding, on office answering machine .... audio recording

23-7-13 It's a BOY , a new future King is Born today (22-7-13 4.24 pm UK) to HRH Prince William and Princess Kate, we saw the notice placed on the Easel at Buckingham Palace, 6 am in the morning here on TV. video

2-6-13 ..... congratulations to the Queen, her 60th Coronation party today
7-5-13 ..... 1st youtube video
5-5-13 ..... Did you see our cab in Mrs Biggs ?

14-10-12.... Happy anniversary to us #18

13-8-12 ..... wow, did you see the Spice Girls, arrive in London cabs during the Olympics closing ceremony, I must get one. Well done London .

15-7-2012 ..... not long now, counting down to the London Olympics

22-6-2012 ..... Wishing black caviar the best in the Diamond jubilee race, at royal ascot tomorrow
| | | |
| --- | --- | --- |
| | 26 October 2011.... Practicing for the Royal passing in Government House Drive, Melbourne .. then I WAS seen by her Majesty Queen Elizabeth and Prince Phillip as She pointed out the open car window at the flag on the fence ?..... Photo noticed by Alan and Cathy in Bargara- Bundaberg QLD, who only met me 6 days before. | |
18- May 2011....

VOTED # 1 London cab service in Victoria,
.. as Voted by our very happy customers, ABIA awards 2011 .... 2012 vote here
29-4-2011 .....royal wedding

21-4-11.... Happy Birthday to our Queen
5-3-2011 ..... BBC TV show, Peschardt's People, filmed around Queen Victoria Market.. did you see us? airing May 2011
17-11-2010 .. ROYAL WEDDING hip hip hooray, HRH Prince William is to WED Kate Middleton
28-10-2010 Hostess on Virgin Airlines, on flight from Gold coast says "Hello Steven, you drove my wedding cars",
I said "Yes I did"
.. how is that.. Mrs Sharon Lee (Robinson) wedding on 3-10-2009, just Celebrated her 1st anniversary

....... then 4 weeks later in Geelong while waitng for a Bride at Novotel
14-10-2010.... hooray our 16th birthday with 1229 hired events done
29 July 2010.. what a night, Opening night of Mary Poppins, 6 London taxis shuttling guests from Her Majesty's Theatre to the after party at the Sofitel Hotel, 120 guests enjoyed the offer. Mr Sherman- who wrote the songs for the Movie in 1964, took prime cab with prime driver Steven-Owner, and was kind enough to give Steven an autograph, in the most delightful way . Also Mr Fellows who wrote the Stage show, took his guests in cab #2.

28 july 2010 ....Mary Poppins , Steven starred with Martine on channel 9 news

16-22 July 2010.. Savile Row Suits promotion for Strickland Sons 147 Bourke st Melbourne

6th July 2010.. attended the GALA ball for ABIA award, won 7th place, in Victoria , WOW thankyou everyone who voted

25th June 2010 ABIA awards, emailed to say we are listed in the TOP10, for transport awards "hooray for us" thankyou everyone who voted

15-12-2009. Invited HRH Prince William to visit our company-depot-home, to share -learn about our proud 15 years of service, we still hope his tight itinerary will open-up, won't that be the Best,

27-7-09 Beefeater Gin Promotion, for Pernod Ricard Australia, 2 black cabs with gents in Bowler hats visited 8 Bars around the City, maybe you saw us in the English Rain

Bars were Golden Monkey, Black pearl, Seamstress, 1806, Match & bar Grill , Spice bars, Gin Palace,

1-3-09 morning herald -sun paper page 117 taxi in picture for Ladette to Lady

Feb 23 2009,..... Ladette to Lady.. for Channel 9 TV Show, . 2 taxis with guests taken to the Windsor Hotel, Melbourne, Steven- owner, met and shook the hand of both Principle Gillian Harbord and Rosemary Shrager next to my cab at the front door of the Windsor hotel, with a hearty "Excuse me Ladies, Welcome to Melbourne"

May 2008 ............Seen on the channel 7 news report regarding safety in cabs,, for real driver safety , step inside a London cab with Norm Beeman
December 6th 2007... we got the call of our lives for ..... a ROYAL ENGAGEMENT on

December 14th 2007...... Queen Elizabeth II (Gerry Connolly ) rode in our top cab, into the Ballroom of Heidelberg , Notting Hill, Gala Relocation Celebration .............. what a most wonderful standing ovation , and speech followed by the Royal Ribbon cutting ... regal all the way
20 November 2007........ we emailed Her Majesty Queen Elizabeth 2,, with congratulations on her 60th Diamond wedding Anniversary

August 1st 2007 in the front of Windsor castle, I bumped into "February Bride , what a totally wonderful delight ......................... she called out from across the Street, "Steven Is that you ?" yes she called out from across the Street, "Steven Is that you ?"
forgive the Stunned look on my face I was thinking "what are the odds"
HELP IS THIS YOU ?
please need to confirm who this is
Yes we contacted every bride from jan -june, no takers, married Barwon Heights ?
lives in London Area not Windsor
Jan 15-30 2006 Met some old mates and made many more whilst in England , found York and Edinburgh, Liverpool and Manchester,

9/12/05 With heavy heart we say farewell to the Route-master double decker bus, in London, last ride today, there will be a historic route somewhere in London ( The two routes are heritage route 9 from the Royal Albert Hall to Aldwych, and heritage route 15 from Trafalgar Square to Tower Hill.)


September 12/13 -2005 ....
. 4 cabs hired by British Airways, covered by promotion signs, we had 2 great days, did you see us?
we made it into the afternoon MX paper


7th July 2005, bus bombed in London, right outside my 1st trip and 2nd trip hotels, can you believe it ?
6th July 2005.. Congratulations to London who will host the 2012 Olympics .



7th March 2005....Our London cab (FJX..) appearing in tv series Neighbours.. shooting in channel 10 Nunawading studio

9th Feb 2005 Wednesday ...We welcome the six London cabbies and partners,
out here for the Commonwealth games,
meeting them at the launch in Federation Square


Western Australia ..... PERTH vacant listing here, please apply

South Australia ..... ADELAIDE... ..... Barossa Valley... 1 RED taxi.. Barossa Red Vintage tours

Queensland ..... BRISBANE ...... A Golden Roller 4 cabs with one FX3 cab too. Jim Latter 1300 789 874


New South Wales ........ Hunter valley and Newcastle Exclusive Vintage Wedding Cars 4 cabs call ... new owners oct 2009, Jamie and Michelle +61(0)2 4932 7799 or 0457 835 940
.......Sydney ... Stuart... london cab weddings

......james at ... Black cab central Sydney
.... ross .... London cab company

Tasmania .... advertise your cab here... OR CALL US , TO BRING A CAB OVER TO TASSY, PRICE STARTS AT ABOUT $ 2,500




New Zealand ..... Auckland .... Metropolitan Rentals ........

.... Wellington ...... ?
... Taupo.................... Taupo tours
....Christchurch ............ Christchurch coach charter bus and taxi
... Nelson top of South Island The Black cab Company
....Tauranga http://www.elitelimousines.co.nz/the-fleet/black-london-taxi-cab
.....Queenstown, who?
....Napier London taxi Napier

...Challis, from Jeff and Carol Challis, 23 March 2002. Wedding 2/2/2002
We would Like to express our sincere thanks for making our special day, special. It was a magic ride across to Point Cook with your driver helping us feel comfortable and calm before hand. We liked in particular how you made us feel like King and Queen on the drive from the reception to the hotel afterwards

...Park, from Rebecca and Danny Park, Wedding 8/3/2002
Many thanks for your wonderful service for our wedding (8.3.02) Everyone loved the taxi-bus theme and for us it added a touch of nostalgia, regarding our London romance. We wish you well in your future business and will certainly pass our high recommendation to any interested parties.


...Friedman, From Victoria and Michael Friedman, wedding 24 March 2002.
Dear Brian and Steven, Thought I'd Drop you a quick note to thankyou both for providing 2 great London taxis on our wedding day and for your prompt efficient & friendly service. The cars certainly set the tone for the day and I enclose a couple of snaps for your files. Thanks again.
...Waldon, from Kellie and Rob Waldon, Wedding 13/4/2002
We would like to thank you for making our wedding day extra special. We thoroughly enjoyed every moment in 'OLD POM'* especially our trip at the end of the night to the hotel. Driving down Brunswick & Lygon Streets with you beeping the horn and people waving just made the day even more memorable. Also, personal thanks to you for beeping the horn when when the marriage was confirmed, carrying the umbrellas around during our photo session and supplying the champagne. Your presence and participation was appreciated and we have enclosed some photos for your album, we hope you like them. Once again, thankyou for making our day one we will never forget. .....(*name of cab with ivory interior)
.....Helen Marchant, wedding 15 March 2003.
Dear Steve, Thankyou so much for enthusiasm & sense of fun on my wedding day. I'll never forget going over the Westgate bridge in the black cabs! It was brilliant! Very best wishes from the "lady in red"!! (photo included Helen, yes in strapless RED wedding gown, a fun lady, Maid and Steven with cab at Government House front gate, )

NEW

19-3-23 we JUST did her 20th anniversary and in the red dress
.......Sandquist, From Amber and Simon, wedding 20/04/2003
Dear Brian, Just a short note to let you know how pleased we were with Steve on Sunday. He even helped out with the bride's dress being caught on a bangle and re-tied the father of the groom's tie! Thankyou so very much for everything... we will certainly be recommending you...love Glenny xxx
..........Audrey Cooling,, 70th wedding anniversary for her parents Bill 93yrs and May 89yrs, 26/7/03
Steven.. I have finally printed some of the 70th Anniversary photos, and as promised the one of you-mum and dad with the "Great London Cab" Thanks for helping (to make) a great night even better They are still talking about the surprise, Kindest regards Audrey Cooling

.....###### deleted by request weddingSeptember 20##
Dearest Steven And Brian,
Thankyou so much for all your assistance on our wedding day.The London cabs were FANTASTIC ! The day was filled with fun, happiness and excitement. The London cabs are very special to us and so great to be able enjoy them on our special day.
Best wishes for 20##

..... Jane and David Parlor,
wedding 21 February 2004.

Thankyou very much for making our day so memorable with your wonderful cars (cabs please) .. Love Jane and David xxx
Kellybrook winery - photo
Wed 6-3-2004 ... Dear Steven
Thankyou for such a fun trip from Emu Bottom to Rupertswood on our wedding night. The toe tapping band is called Clan Destiny
.....Best wishes, Cathy and Tim Hiatt

Graduation.... Catholic Regional College Melton to The Luxor in Sydenham on 01.12.04)
Steven, .....Just thought I'd finally take a couple of minutes to compliment you on your service. The feedback from the girls and their parents were nothing but excellent. The girls talked non stop about their ride. Many people at the school asked where the Taxi came from and that they thought it was very different. So hopefully you will be known more in Melton. I was very pleased that you introduced yourself to me. I am very sure your business will always move forward in leaps and bounds. We will be seeing you next year as Monique will be making her Debut. Once again, thank you for making the Year 10 Graduation Special. ....................Regards Sharon Lord ... ( 2x customer see letter below)
Sean and Melissa's Wedding, September 14, 2004
Just a short note to say thankyou for providing the finishing touch to our extra special day. We still get comments about the lovely car and our wonderfully eccentric driver, Steve. The special little things you did for us made the day that bit extra memorable. (Note: dress tips...calming my nerves...driving several times around the roundabout whilst tooting the horn and giving the royal wave... comparing suspenders...never forget it!) Thankyou for completing our fantastic day! We have been recommending you to everyone we know! - Melissa, Sean and baby Tahlia...(photos included)


...........Gael Middelveld & Richard Jackson wedding June 2004....
.....Dear Steve & Co., Please find attached our wedding photos featuring your London Taxi, and my best friend (after my husband!) Cherish the Teddy bear. Sorry we have taken so long to get back to you. We hadn't forgotten, just a bit disorganized ! We hope they provide a smile. We had a wonderful day - & enjoyed our taxi rides - a lovely honey-moon, and 6 months later we are still happy. Thankyou for helping to make our day special. Best wishes, ...Gael Middelveld & Richard Jackson & Cherish the bear

DEBUTANTE BALL..... Hi Steven, Thank you very much for all your help on Friday 30th September. (Luxor drop off at 2:45pm) Both couples enjoyed the ride in the taxi a lot and we had a great time at the deb. I wish you all the best and you never know we may need you again in the future. Be happy always, Sharon Lord
5-11-05 .... Dear Steve / Brian...... Wow what can I say, but a big, big, thankyou for your wonderful service and attention to detail on our daughters wedding Saturday (5-11-05) at Geelong (heritage house). You were an absolute hit with everyone. Once again thankyou for making the day a memorable one.... from .Bronwyn Thomson
..............from the new engaged Oliver Harris and Melea Tarabay on 2-2-2007...(he popped the question on the beach during her birthday surprise royal tour )
I would like to thank everyone at London Taxis for making it a very special day. It was fantastic to have a London taxi take us around Melbourne in such style.
Thanks Oliver and Melea.....
..... Matthew and Louise Cross. 17th March 2007
Afternoon Guys,Just wanted to say a huge thank-you for the cars, they looked amazing with the backdrop of Monsalvat.Steven we missed you enthusiasm on the day, but the guys were fantastic.The cars helped make a memorable day all the better with the photos that we have to keep.Thanks again and best wishes ..Matthew and Louise
Hi Steve,
Wedding 17th Feb 2007 - Pinner/Rule - Botanic Gardens Melbourne I hope you are well. I finally got the wedding photos last night and as promised I have some (13) for you. I think there are some really good ones of the car!

Thank you so much for all the help on that fantastically hot day! It really made our day and all the small touches were really appreciated – especially the ice cold towels you had waiting for us when we got back to the car (remember it was 42c that day!) You were a real help to me as I was so nervous. The car was beautiful and everyone commented on it! Kindest regards, Rachel

photographer...Adam Blair of Blair's Photography
Colls, Kym and Jason....
Thankyou for the wonderful car you supplied for our wedding day. It was a real treat and a huge talking point at the wedding. Special Thanks to the driver on the day.
............Love Kym and Jason 10 Nov 2007
Hi Steven, Thankyou so much for giving us the opportunity of riding in your London cabs ( with a London Bobby as well (groom's brother )). Your cabs made the day and my Father in-law reckons the best bit of the day for him was the trip in your cab on the way to the church.. he want bloody shut up about it ! They really did make the difference, and were the perfect thing for our day. I will be highly recommending your service to all my other bachelor mates that ever think about tying the knot.
.............kind regards Rhys Coulson wed 11-1-08 Brighton
.... Peter and Barbara Newberry..... Golden wedding anniversary 25 Feb. 2008
Hi Steven, We would like to say thankyou so much for a wonderful job well done! Our parents had a great night and enjoyed their surprise journey in your London black cab immensely, they will treasure these memories of their special celebration. So thankyou again for the "Royal" treatment of Barbara & Peter on Monday 25th Feb (2008) Sincerely Yours Eva Pagett (Daughter) ( trip Sunbury to Tram-car Restaurant and return)
.. Will and Geogi Cook (Waldie) Daylesford 8-3-08...
Steven, Thank you so much for helping make Georgi and Will's day so special. Ian and Graeme did a marvellous job. Have enclosed a photo of Will and Georgi Cook, John and Janet Waldie in front of your taxis. Thought you would like to see it.

.........Regards Janet Waldie
..... Burbridge, Neil and Toni (Ryan) Wedding 15-3 -2008,
My daughter Toni Ryan was married on the 15th March 2008. We had Ian as our driver to the Ceremony.
I must commend Ian for his courtesy, helpfulness and "nothing was too much" attitude on the day.
I would recommend your organization to anyone wishing to have something different on their special day.
regards Gary Ryan


................. Bruns, Daniel and Lauren (Wynhoven) Wedding 22 March 2008, Geelong.
To London Taxi Wedding Services. We sincerely thankyou for your efforts in supplying us with the most glamorous wedding car (3 taxis). We thankyou for making our wedding day an occasion we will always remember. Your Professionalism was much appreciated. We are very grateful for the hard work an efforts you provided on the day. We had a great day and also much enjoyed our lovely trip to our Motel. The service was incredible. Once again. thankyou for everything.
Kind regards Lauren & Daniel Bruns.
Cole, Teresa and Richard , wed 29-3-08 Emu Bottom
Dear Steve; I want to say a very big thankyou for being there on our wedding day for us. It was fabulous how you were part of our celebration too. Everyone has commented on you and your gorgeous car (cab). You made us feel very special over the entire day. Thankyou for helping us out with umbrellas during our photos also. I have attached a picture for you. Thankyou again very much appreciated hope to see you again. Teresa and Rick Cole.
.... David and Karen Melville, Deb Ball for Daughter, 9-5-08
Thankyou Steve for making our daughter's night special, her Debutante partner Daniel enjoyed it as well. The tooting of the horn and making them wave at everyone made then feel at ease by the time they arrived at the venue. David and I thankyou for calling us to say that you had dropped them off at Lakeside. Thankyou again, Steve you have a lovely bubbly personality
David and Karen Melville,...
Ashley and Candice Lance, Wed 24-5-08
Dear Brian, Steve and Team, Special moments only become wonderful memories with the support of amazing people - thankyou for all your help and special wishes on our wedding day
All our love Ashley and Candice(Boyle) Lance

...
Kim & Jodi Wiley, Wed 28-6-08.
Dear London Taxi Wedding Services, Thankyou for the brilliant car (cab) & excellent service.
........ Kim and Jodi Wiley
Photo in front of the "Anchorage" , Williamstown

...

...Frederickson ..Wedding 29-11-08 Wooling Hill Memorial Gardens,
Hi Steven, Thankyou for Saturday and the entertaining taxi ride. We had a great day and night, although it all went too quickly !! Thanks again. Lucy and Shane.

...Blythman, concert trip with return 5-12-08, Hi Steven, Thanks for all your help, we had a great night Friday. Frank ( driver) did a great job. Cheers Travis Blythman

......Nisbet, Wedding 10-1-09, Hopper Xing, Williamstown to Roselyn court and reception departure to Windsor hotel. Dear Steven, Just a quick email to say what a wonderful job Graham and Ian did on our wedding day. They were wonderful. Thank you too for the lovely cars (cabs). We received such wonderful comments on our car choice and we felt it helped to make our day memorable. Please pass on our appreciation to Graham and Ian. Thank you once again Kind Regards Bronwyn and Robert Nisbet ps. will send photos ( yes ! )

....Degroot, Wedding 19-12-08 Crown promenade to Montsalvat Eltham, Friday traffic, Dear Steven, Thankyou so, so much for your fantastic service & speedy delivery on my wedding day December 19th 2008. You conquered Melbourne's traffic & gave us a very good giggle on the way to the venue - & I felt completely at ease with the timing in your capable hands. The Car (cab) is a little beauty and I'm so glad I was able to have a little slice of London on my wedding day. All the best, Prudence ( and Daniel ).
... Leonard-Jones, Wedding 17 Jan 2009
Dear Steven, Many thanks for the most Glorious entrance that we could ever have hoped for on our wedding day. Your timeliness + attention to detail were very much appreciated.
Mrs & Mrs Jade & Fiona Leonard-Jones xx
O'Loughlin, Julie and Brenton,
wed 21 / 2 / 09 at Yering Gorge Cottages
Dear Steven, Thankyou for your invaluable contribution to making our wedding a huge success. We had so many comments about the taxi !
Best wishes.. Julie (Homer) and Brenton O'Loughlin
.... Price, Martin and Sally, Wed 28-2-09.
Hello, I have just received our professional photos from our wedding day and there were some great ones of the cabs. Thankyou for everything on the day, they looked great! Many thanks
.....Sally (Higgins) and Martin Price
.......... Frigo/Mansour, Mara and Mark, wedding 28/3/2009, Hi Steven, I would just like to thank you for the amazing experience of riding around in your cabs yesterday. It really helped to make our special day memorable and it was a nice link to our time in England. Please thank your drivers (Ian, Mike and Tim) for being so accommodating and lovely ! Kindest regards Mara Frigo/Mansour
Letter from Bride's Parents Helen and John Hughes ,Tarneit, Bride Debbie Barker wed 4-10-09

Hi Steve, We thought you might like to use these snaps in your Cab Album. Thankyou for your kind service on 4-1-09. We had a great day. Helen and John Hughes ,Tarneit,
Mr & Mrs Davey, wedding (#1165) at Kilgour Estate Port Arlington, 26-11-09,
Dear Brian and Steve, We hope you had a wonderful Christmas, As promised attached are some pictures from our wedding featuring your car !(cab) Thankyou for making our day extra special. It was a pleasure having you join us. Kind regards Shane and Stephanie (Graham) Davey.
Mr & Mrs Jeremiah-Shelley, wedding (#1166) at Geelong Wintergarden, 28-11-09,
Hi Steven, Just wanted to say thankyou so much for making our wedding so fantastic!!! everyone commented on how great and friendly you were, and how fantastic the car (cab) was and how great you looked!!!! It was so fantastic, I'm so glad we booked ( from Scotland ) thankyou again!! Marti x (and Dan)
... Mr & Mrs Adda, wed 6-3-2010, Royal Botanical Gardens Melbourne, Dear Steven, Thankyou for making our wedding day on Saturday 6-3-2010, so memorable. We found you to be extremely professional and courteous and the London Taxi cab ride exceeded our wildest expectations. We hope that you and the taxi made it back in one piece as you may recall that was the day of the terrible hail storm! We would definitely recommend you to our friends, we had such a wonderful time, With thanks Charissa (Ng) and Lucas Adda
Mr and Mrs Camilleri wedding 17 April 2010

Hi Steve!!!!!!! Hope your well just to let you know Matt and i have voted for you in the Abia awards

Your service was absolutely perfect, you and your staff and your incredible cabs helped to make our day the most special, memorable day of our lives :) from the moment they arrived nothing was to much, they helped with photos (holding umbrellas to stop the sun getting in the way of great shots), helped us girls get in and out of the car, made sure we always had drinks as it was a warm day, even bought the boys jam donuts in Fitzroy gardens!!! it was absolutely amazing to see such a high level of service!! even going above and beyond the call of duty.

Then when you came and picked us up from The Manor on High, and took us to Crown Towers, well what can i say it was the ride of our lives!!! Made us feel so special, was the most amazing way to cap off the perfect day for Matt and myself, so for that we highly thankyou!!, we have told everyone about you!! and will continue to do so for many years to come Thanking you again, Erin and Matthew Camilleri
.. Stefanie Ortega.. 31 July 2010, Deb Ball ( 8 girls with partners from 1 house 2 cabs and 1 limo), Lara to Deakin Uni, Thanx for the great service it was amazing ! Had a fantastic day thanx again.
| | |
| --- | --- |
| Mr & Mrs Culph wed 19-11-2010, To Brian and Steve, Thankyou for making our wedding so spectacular + so much fun with the London taxis(19-11-10). Everyone thought they were great, and they looked amazing in our photos. Thanks again, Ruth (Steventon) and Richard Culph | |
....... McGarigle, Katrina (Hamilton) wed 8-1-2011, Hello, We had a wonderful time thankyou so much. The drivers were fantastic( even getting themselves drenched by the rain to protect us from getting wet) We would love to vote for your services! Thanks for making everything so easy for us!!! Katrina and Casey
Mr & Mrs Sarah and Shane Albon, wed 15-1-2011, Done ! (they voted YES)
It was a brilliant day and Steven was such lively fun. Couldn't have asked for better service ! from Sarah Birch
Director of Markerting
EMC Group Geelong

photo at Barwon Heads Carnival

short movie bride on ride
Mr & Mrs Moorfoot,. wed 29-1-2011 Geelong
Dear London Wedding taxi, Thankyou for your friendly service on our wedding day, The Taxis added an extra special touch to our special day Thanks again from Beck (Everett) and Paul.
..... Mr & Mrs Donaldson. wed 5-3 2011.
Hi We recently used your service with the hire of a London Taxi for our wedding day (March 5th 2011). We would just like to say a big thankyou to our driver Frank. He was absolutely fabulous and helped make our day so special. We will not hesitate to recommend your business to friends and family, the car (cab please) and driver _Frank were perfect . Many thanks. Bianca and Toby Donaldson
| | |
| --- | --- |
| Mr & Mrs Marshall, wed 15 April 2011, We just wanted to write to say a big thankyou especially to Steven. He really did put everyone at ease. He had safety pins when required. bottle opener, glasses, umbrellas you name it his car (cab) was like a Mary Poppins bag! He truly added to the effect of arriving and leaving in style. The car (cab please) came out wonderful in the photos and our guests loved the fact we had something from back home to make the day special. With Summer around the corner I'm sure you'll be booked up with wonderful weddings. Thanks again Helen and Peter (also had a double decker bus for guests) | |
Prize 14-8-2011 .... Dear Steven, I was the winner of your Black cabs Taxi ride as part of the recent Geelong Patchwork& Quilters Guild fund rasing drive. My son Edward Celebrated his 21st Birthday in Style, My Sister& Mum, Husband Bruce and Myself all thoroughly enjoyed ourselves on 14th August 2011. It was a very special occasion and we felt very privileged with your great attention to detail. Winning the prize came at a time when our family was on a big low. Circumstances have now changed. Thankyou once again, Andree Donaldson

Wedding 18-9-2011,
Dear Steven, Thankyou for the fabulous taxi ride. It was enjoyed by all, especially Sarah, It made our special day just that little more special.

Love Sarah and Frank Donato.
Mr & Mrs Bridger, Wed 11-11-11,
To Brian, Steven & our Driver Graham, OX. We both want to say a huge thankyou ! You were all so professional & our Driver Graham was relaxed which made us all relax. My father, myself & my girls loved the taxi. It looks fantastic in our photo's. It was such a cool ride& our guests loved it, that I chose something different for a car & it represented my homeland to my father & me. Thankyou all so much . Vicki and Hayden. OX (with Christmas card too)
| | |
| --- | --- |
| Kelly and Matt Poljicak, 26-11-2011. To dear Steven, Brian, and all the staff at London taxi services, A very big but belated thankyou for all your dedication and hard work that you put into making our wedding day special for us. Having the London taxis (3) was everything I had wanted, we felt very special. Shame we had the London weather also that day. However, we all had a ball. Thankyou again for being a part of it . Many regards, Kelly and Matt Poljicak. Cheers ( 5 photos included) | |
... Mr & Mrs Dee, wed 17-12-2011, Wishing you and your family a Merry Xmas. Thankyou so much for making our wedding day so special. Simon and Brigitte
... and 2nd sent 20 photos.. bless x 20
... 3rd Dear Steven. We wanted to personally thankyou for you excellent service on our wedding day. Not only did you provide a beautiful London cab, your enthusiasm and assistance on the day will never be forgotten. We wish you well for 2012. Thankyou so much. Love Simon and Brigitte Dee xx00

VIDEO on youtube

Mr and Mrs Lee, wedding 24-11-12 , HI Steve, Just wanted to thankyou for supplying the London cab for our wedding on Saturday 24th November. Although it was quite hot, we had a lovely day and got some amazing photos with the London cab ! Plaes pass on our thanks to your driver, as he was very accommodating with our requests on the day! Thank and Merry Christmas!!! Kind regards Kylie and David Lee

Emu Bottom- sunbury wedding - Joanne & Steven, please note bubble gun there were 2, ask me about the battery story,
https://studioedge.net.au/latest-weddings/emu-bottom-homestead-weddings/#/
Stones of the Yarra valley, Winery, wedding nov 13th 2014 http://www.polkadotbride.com/2014/11/sweet-vintage-inspired-wedding/
SAULT Daylesford wedding daylesford 06-2012 Vanessa and Rich http://www.polkadotbride.com/2012/06/vanessa-and-richs-daylesford-lavender-farm-wedding/
...Mr & Mrs Mohr wed 1-11-14, (the day strong wind storm in Melbourne) HI Steven ! Thankyou so much for Saturday ! We Appreciated your professionlism and quality of services and would highly recommend you to anyone ! Your were a pleasure to deal with and felt like sunshine on a rainy day. You made our day special ! Thanks again Many Thanks and kind regards Ourani (and Jonny)
thankyou from Easyweddings website From Callan Browne wedding 23-1-15.Score: 5/5 Comments:"Steven was a character and really gave the day somewhat of an X factor, something unique and had plenty of people talking"
21-3-15 yes 4 day ago, came today 25-1-15
Hi Steven, I just wanted to send you an email to thank you so much for the beautiful cars you provided Dave and I with on Saturday! They were everything we imagined and the guys driving them were so amazingly helpful and did such a wonderful job. I can not thank you enough for what it meant to us both to have the cars in our wedding, as it made our day just so much more special! Your cars are beautiful, your service was amazing and we will remember it forever! Regards Amanda Lawes ( I sent this to her drivers too)
kate and Amanda.. http://www.iainandjo.com.au/a-mclewis-wedding-sneak-peek/
wedding 1-11-2015, Ali Ashley, Riddle Creek,
Dear Steven, I wanted to thankyou so very much for making my taxi ride to the wedding so much fun. Your attention to detail, the surprize in the park, the way you managed to relax the guests waiting at the venue before we even arrived, (hehe, all that tooting) was superb. Thankyou also for waiting until the ceremony was over to make sure we had the photo opportunity with your cab was so generous. I will most certainly recommend you to anyone looking for something different to the boring old limo for their event! With warmest wishes, Ali( Mrs Holborn)

Review from Easy wedding .... From: Karina H. wedding 3 days ago- 13-3-16
Score: 5/5
Comments:"Steven was so funny and charming, he really put me and my bridesmaids at ease, and made us feel really special in our beautiful black cab. I wouldn't hesitate to recommend London Taxi Wedding Services to our family and friends.

10 september 2016, 21st Birthday hire, TITANIC Williamstown, .Hi Steven, Just wanted to thank-you for the wonderful service your company provided in collecting my son Adam and his friends from Latrobe uni for his 21st last Saturday. The cab and your driver added to a wonderful night and created some fabulous memories of this milestone occasion. I wouldn't hesitate to recommend your services and wish you every success. Best regards, Karen Benca.

30-10-2016, babby shower, Laura Harmsworth,
Hello Steven, I just wanted to say a huge thank you for driving us in style to my baby shower. Mum and I had a ball, it was a wonderful experience!
10-11-18 Maryanne Schembri recommends London taxi wedding services in Melbourne: "Thank you so much Steven for such a memorable drive to my wedding!! What a funny and kind person you are!! Loved the cars! Thank you so much"( wedding at the Windmill) She gave me a tip. which I turned into a new white shirt, God bless- I wrote her name inside the shirt
2-2-2019 Nick and Eden Voutilainen,
wed at Eynesbury Homestead,

Hi! Thank you so much for doing Nick's and Eden's wedding last month! It was so special !!!

Here is some photos:


19-4-19, Charlotte Read and James, wed Port Arlington, Steven was amazing. He made us all laugh and even sang in his beautiful taxi on the way to my wedding. Took pictures for us and had an emergency cover (white linen napkin) to stop pollen from flowers getting on my dress. Such a unique and fantastic service. Thank you xxx ( She found Mr Right- in the outback, 1 hour from Broken Hill )
13-7-2020, Hi Steven, I hope you are well and having a restful Sunday. We just wanted to say thank you so much, once again, for both you and your car (cab) being a part of our video clip yesterday, it was absolutely perfect. We're so grateful to you for coming all the way down to Mornington, thank you. It was lovely to meet you, have a chat and hear more about your car and your adventures. We'll be sure to send you the clip when it's done. Best wishes and thanks again. Kind regards, -Laura and Andy. ~The Weeping Willows~ ( steven will post picture- with permission, after video released hush hush )
wed 21-2-21, Inglewood,
Hi Steven Wendy and I and all of our guests were so impressed with both you and your beautiful London Cab. Your lovely personality absolutely made our day so special. We are happy to recommend you to any of our friends in the future. Thanks for making it the best day ever. Catherine and Wendy ( can I publish?) Absolutely Steven you were terrific, Big Hug xxxx
more reviews at "EASY WEDDINGS"
Thankyou all, for your wonderful letters, photographs, and your very excited referrals too. Please say Hello when you next see us. Just like you, we love to re-live great memories. It is never too late late to send a letter or Photos.
Re- live the joy at your next celebration ........ our London Taxis are ready and waiting. ..
Facebook reviews
With reviews like these why would you want to use another service, price long forgotten, solid life long love for our service, is a sign of a great business. Will your letter be the next on this page?
BOOKINGS...
The EARLY Bride gets the cab with A/C,
Touch to call mobile: 0417811502" .... or email solsen@londontaxiweddings.com.au
Ask for ..... taxicab availability, ..... prices, ..... fleet viewing appointments,
...... booking forms( sent as attachment on my reply to your email),
...... Questions, ask about our 1640 completed weddings, and experiences,
...... or the next wedding date so you can watch us in action.
For a quote, please give me
... your hire date .....
... hire start point/s ..... and time/s... ie groom's pickup address .. at what time
... hire start point/s ..... and time/s... ie Bride's pickup address .. at what time.....
... ceremony is where .... at what time .... .....
... Reception is where ... arriving at what time ....
... Reception departure from where ...... ..... and what time...... to where.......
... how many cabs? ...... seating 4 adults in each taxi. no seat next to my driver ( not self drive)
... on confirmation of your booking a deposit of $100 per cab is required, balance payments due before 14 day prior to the event,
COUNTRY BOOKINGS .. Be first in your town, to have the London black cab experience...
price includes - $1 /km loading from depot to depot + wedding hire (+ accommodation if required) .

Our prices are set at quoting, or at quote alterations, you will know the final cost.
NO SURGE PRICING LIKE UBER

..... Service Extras we carry free of charge - bonnet white ribbon, rear window tulle (or Flag), umbrellas, esky, ice, Drinks, glasses (not plastic), white linen napkins (not paper), waving flags ,
new USB sockets for phone charging ... etc

maximum weight LIMIT Passengers combined = 400 kg per cab

Friendly note, ... 1. Please be ready to board your taxi at the start time written on the booking form, not the finish time.(5th bridezilla )
2. Over run of hire is not allowed. full stop. We do have the right to hold a new hire after yours, and so expect to meet the 2nd customer as hired,
3. Tipping your driver for his extra efforts- a lovely surprise

WEDDING NOTE..
from the time honoured era of chivalry... The Bride is always on the left arm of her father, so he can draw his sword with his right arm, to protect her ...which is also why the bride will then stand on the groom's left arm.
Guys.. wearing a waist coat, the jacket buttons are not done up, from a time when button are a symbol of wealth, that is why your jacket has 5 buttons on the sleeve !
Please Vote for ABIA AWARDS (Australian Bridal Industry Academy)
Dear Bride & Groom Congratulations on your wedding, we know you had a wonderful day. We hope the service which London Taxi Wedding Services supplied , was up to, or even exceeded your expectations. So would you please nominate London Taxi Wedding Services for an ABIA Award. Please vote .. online voting form at www.abia.com.au/vote
NOMINATED BY MR & MRS GARRIE (WEDDING OF 5-6-04)
NOMINATED David and Francesca (Ieria) Robertson (WEDDING OF 26-5 -07)
NOMINATED Jade and Fiona Leonard-Jones (WEDDING OF 17-01-09)
NOMINATED Julie and Brenton O'loughlin (WEDDING OF 21-2-09)
WON #1 for Cabs, # 7th car service with ABIA awards 2010
WON #1 for Cabs, 6th car services ABIA Awards 2011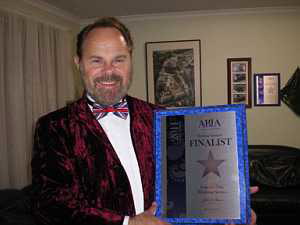 All our drivers are mature, wedding experienced, and Government accredited, alcohol and drug free, police checked.
I am always looking for Excited drivers, so book a trip for an Anniversary , or your wife's Birthday, see the service and the showbiz side of the job and , and then apply . It Helps greatly if you .. have been to London, you own a suit, you can tie a Windsor Knot, and you can look the bride and groom in the eye when you say "congratulations Mr and Mrs .... email or phone us about Driver Accreditation Certificate
---

..Links to more, for your wedding day.

English and Irish charactures and more see https://leoniecollins.com.au/


MICROPHONE TECHNIQUE please use a strong voice . you invited your guests to be a witness, so be

LOUD

so the guests in the back row can hear, ask the back row can they hear clearly, turn up the volume, put the Mic on your chin,

Windsor Knot..
this knot seperates the men from the boys. Ask your driver to fix dad's, or Groom's tie into a Windsor knot (wedding knot) , Recently a Bride said with great delight "you saved the wedding" as Steven-Owner, retied groom's tie into a windsor knot .. before they walked into reception, Come on guys, get it right for your wife, and the photos on the mantelpiece. CLASSES AVAILABLE,


Bands.... Irish Band
.................Celtica-Aussie Bush band free selectors
............... the Beatle Show by Rubber soul
.................Clandestiny (Irish)

ICECREAM CART... Bianco latte Gelato


Wedding Master of Ceromonies- MC British characters full range.. Queen Elizabeth 2nd for a royal speech.., Bobby, Fagan, Eddy -Patsy, Margie Thatcher and More to entertain your guests.. BRITISH PROMOTIONS or open the door on your wedding taxi , call Leonie Collins....... Mobile 0409945083 https://leoniecollins.com.au

Treats from Home (UK) for UK products and Souvenirs was at Level 1, 234 Collins Street Melbourne .. july 2022 found out that , sorry to say , this is now an online store


Kilts and Pipers call Celtic Affairs


house of scotland in Balwyn. Victoria


Bagpipe services ....call .. Jimmy Smith 97627937.. or Alec Beaton 0419 568 895
.......................... or Campbell or Lachlan Wilson ..........Melbourne Pipeband


GROOM"S Speech .... always starts with- "On behalf of my wife and I, ....." SAID IN A STRONG VOICE ( pause for audience responce)..." think about it guys, said with enough thought and passion- your wife will leap from her chair as tears fall down her face and your's , and the crowd leaps and cheers

Titanic theatre restaurant ...CLICK HERE

Hot air balloon flights with ,, GLOBAL BALLOONING

Health for life, the hidden key- Vitamin C... https://www.vitamincfoundation.org/basics.php

westpoint printing & design, 2019, Hoppers Crossing 9748 8800, 0414638200, Email ...


ROYAL BOTANICAL GARDENS MELBORNE

Chimney sweep ... for good luck. https://chimneysweeps.com.au/





GEELONG FIREWORKS ...


CELEBRANTS ...... Kim Walsh . Altona ...
...... or... at https://www.brideonline.com.au
....... or Celebrant kate -the best I have seen and heard over her PA(wed 21-1-17)

DONATIONS ARE WELCOMED,
Geelong - Clutch and Brakes Specialists they have a radial Grinder so new new linings will match your drums-WONDERFUL- fixed the problem, so that is where we go now


THE FIRST DOOR WE KNOCKED ON 1998 TRIP #1 TO LONDON. Public Carriage Office, London, UK - http://www.tfl.gov.uk

NEW YORK CABS in Melbourne

GET SLIM Potassium stops you laying down more fat, see this video and see if he is right , add potassium like bananas to your breakfast, it worked for my fatty liver, (got no advice from the Doctor-huh?)

My favourite place is Emu Bottom in Sunbury


* A/C in 1 cab the prime cab ATM

ACCUSPARK http://www.accuspark.co.uk/ AUSTRALIAN REP IN VICTORIA- kinglake via ebay-retroroad and Track/ my new best friend- was install 17-8-2018- wow crazy-happy now with the improvement to the engine- esp the learning of how to tramp the accelerator, with joy -- update JUNE 2022, do not use this accupspark, new unit problem in the manufacture found june 2022, best get a PERTRONIX NEXT TIME - I have emails to share if you want to see the offensive comment about "my mechanical care of my 27 year taxi-wedding car, offense backed up by the REP in yarra glen, a trained nurse- not a mechanic- ( even after - it was her who said to try the old kit 16 ring- taken out in the replacement, , which thus got the taxi running , and now SHE has a storeroom of iffy product ) .... 2nd unit lasted 4 hours of driving WTF

wedding directory same sex LGBT her bride his groom

for sale Austin FX3 project car, with restored parts, requires assembly, call collin , Melton Victoria, Australia 0438195502



.... Spruiker Melbourne is Steven's other service

- - - - - - - - - - - - - - - - - - - - - - - - - - - -- - - - - - - - - - -
IMPORTATION OF LONDON BLACK TAXI CABS INTO AUSTRALIA do not buy a cab in UK ( or anywhere) until you have permission to import papers from Dept Transport Regional Services 0262747111 , Canberra Australia, to import a cab. Do not believe the export service where your got the cab, when they say nothing else is required. Also customs Australia will tell you nothing is required as I found out personally .... this is wrong. Call 0262747111 Dept Transport & Regional Services. Cabs after 1988 Must have been owned as private for 1 year... and have permission to import papers too, ......or your cab will be destroyed - crushed, on landing in Australia. Obtain a "VEHICLE IMPORT APPROVAL" from the Vehicle Safety Standards Branch of the Department of Transport and Regional Services.
Phone: 1800 815 272 (Australia only) or (02) 6274 7506, Fax: (02) 6274 6013, email: Vimports@dotars.gov.au

.... there are black cabs in Australia for sale ... email us for current details. click here
TAXI PARTS in AUSTRALIA....... or in England http://www.londontaxiexports.co.uk


Our Depot our Mews